Why buy from the dealership?
Factory-trained and certified technicians.
Maintain comprehensive vehicle history for optimal trade value.
Complimentary shuttle service available.
Authorized warranty repair facility.
Highly trained technicians with the most education and experience in the Triangle.
Complimentary valet service.
Exclusive email service offers.
Monthly coupons/specials available via our website.
Just like a house or apartment's A/C, your vehicle's unit can fail. Unlike your house or apartment, your vehicle's unit is mobile. Every pothole hit, curb bumped, gas pedal floored and collision experienced can make the sundry components to your air conditioning just a little bit weaker until one day-just another day, perhaps on a hot, humid day-they give out.
Air conditioning is also used during the winter to clear fogged windows because your defroster depends on cold air to reduce humidity. Getting your A/C in tip-top shape is essential to having clear visibility and staying safe during the cold months. Our team of experienced technicians has the manufacturer-grade tools and diagnostics to repair and optimize your air conditioning system.
Our repairs include the following:
Recharge refrigerants.
Replace compressors and compressor's clutch.
Replace receiver/dryers.
Inspect tubes and seals.
Replace condensers and radiators.
Check expansion valves and evaporators.
Check blower motor and resistor.
Check switches, fuses, relays, control modules, blend doors and solenoid.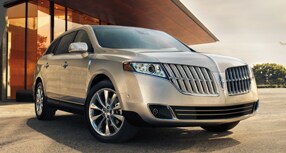 Whether it's a cracked hose, deteriorated seal, failed fan, or a dozen other tiny parts in your technologically advanced vehicle, A/C strength can drop off over time, sometimes dramatically. No one likes an escalating problem. Bring your vehicle to Leith Lincoln's Service Department to fix any and all problems with your air conditioning system. 
Hours
Monday

8:30am - 8:00pm

Tuesday

8:30am - 8:00pm

Wednesday

8:30am - 8:00pm

Thursday

8:30am - 8:00pm

Friday

8:30am - 8:00pm

Saturday

9:00am - 6:00pm

Sunday

Closed